Good news: we just got back from BB's appointment with the craniofacial specialist, and she's fine. She has "sutura mendosa," which the doctor described as an extra or persistent suture at the back of her skull. I really like this doctor. He gave me a nifty handout (copied from the web) so that I could explain things to S. Here's the relevant section:
Sutural bones are usually small, irregularly shaped ossicles, often found in the sutures of the cranium, especially in the parietal bones. When the lateral portions of the transverse occipital sutures persist, the anomaly is termed sutura mendosa. Sutura mendosa, which starts from both lambdoidal sutures, represents the remainder of a transverse occipital suture. This suture forms an interparietal bone (Inca bone or intercalary bone or sutural bone). As many as 172 sutural or wormian bones have been found in one skull. They are rarely found in the sutures of the face.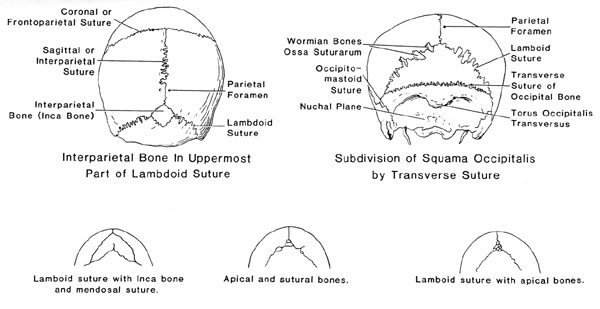 The lower left diagram shows the suture in question. Apparently this is a normal variation and it causes a bump or ridge along the back of the skull, which explains why her head measurements have been jumping all over the growth chart: if the measurement is taken including this bump/ridge, as it should (since it should measure around the largest part of the head), then she shows "off the charts" in about the 110 percentile; if it is measured above or below this ridge, then there can be a difference in as much as a centimeter in her head size, which would put her "on" the charts, but would be an inaccurate measurement.
As I've mentioned, we saw this doctor for BJ's "familial macrocephaly." Though we didn't get the same initial reaction -- when he saw BJ, his first words were, "I love this head!" -- he was just as reassuring with BB as he was with BJ. He has apparently presented papers at conferences about BB's condition, and he said that when he first started seeing kids with this, he followed through with x-rays to confirm the diagnosis (in fact, he pulled one up on the computer in 3D to show me exactly where the suture was and how the bump manifested itself; technology is so amazing!) but since BB isn't showing any sort of developmental issues or other causes for concern he didn't think that an x-ray would be necessary.
Interesting to have my mother's instinct confirmed, to know that BB's situation was indeed different from BJ's. I've noticed from the beginning that her head, while definitely large, was shaped differently than his. Because of this difference I was a bit anxious about her and didn't just want to assume that because her brother was fine she would be too. So glad to put that worry to rest!