When I originally decided to run my featured interviews, I didn't think too hard about which day of the week to choose. Attracted to the alliterative potential of a "Friday feature," I mostly chose it on a whim.
Turns out there are LOTS of wonderful folks who also do featured Etsy interviews on their blogs, and many of these also post on Fridays. And today it was my turn to be featured at the blog of the ever-gracious, always-helpful
Stormy Designs
! (Yes, the same wonderful and generous person who is responsible for the new design of my blog, which I still just love!)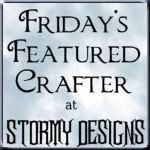 Thanks, Stormy!